#Cannes2014. Día 5: The Homesman de Tommy Lee Jones, The Wonders de Alice Rohrwacher, Jauja de Lisandro Alonso
Trailers de la Sección Oficial · Historia de México en Cannes · Presencia latinoamericana en Cannes
Días: 1 · 2 · 3 · 4 · 5 · 6 · 7 · 8 · 9 · 10 ·
Ganadores: Premios FiPRESCI y SIGNIS · Semana de la Crítica · Un Certain Regard · Sección Oficial
Competencia Oficial: The Homesman (Tommy Lee Jones, EE.UU)
En la quinta jornada se proyectó en competencia The Homesman, el segundo largometraje dirigido por el estadounidense Tommy Lee Jones, cinta que ha sido recibida en general de manera positiva, situándose así como una de las favoritas y primeras contendientes a la prestigiosa palma dorada del festival. Tras Los tres entierros de Melquíades (2005) –que le valió una nominación y con la que el realizador se alzó con el galardón al Mejor Actor en Cannes–, nueve años después, Jones presenta The Homesman, un western producido por Luc Besson, Michael Fitzgerald, Peter Brant y Brian Kennedy.
En la conferencia de prensa, Tommy Lee Jones, habló sobre su película:
Leímos muchos libros sobre la locura, pero en especial uno sobre la enfermedad entre las mujeres en el siglo XIX. Aprendimos cómo tratar estas diferentes patologías. En la época se pensaba que para curar la esquizofrenia, había que sumergir a la persona en agua helada durante ocho horas. Busco la originalidad, eso es lo que prima. Cuando uno la encuentra, no duda un instante. Tuvimos la suerte de encontrar algo muy original. No sientes que estés dentro de un sistema.
Luc Besson:
Esta película muestra una visión de los Estados Unidos que no conocemos en Europa. Se trata de una visión muy exótica para nosotros, no somos conscientes de que los tiempos eran así de difíciles. Conocemos el sueño americano pero está bien ver cuál era la situación antes de ese sueño.
Peter Bradshaw de The Guardian la ha calificado de «sumamente entretenida y agradable». Mientras que Peter Debruge en Variety considera que « Jones ha creado en su nueva película a un antihéroe memorable».
Primeras impresiones:
Homesman es un western sumamente entretenido y agradable; Tomy Lee-Jones tiene un dominio poderoso y desenvuelto en su narrativa. Construye una trama con verdadera firmeza, maneja fácilmente los cambios tonales entre la comedia negra, el shock brutal, y el sentimentalismo. Jones la protagoniza, la dirige y coescribe el guión que se basa en la novela homónima (1988) de Glendon Swarthout. Como director, Jones no es tímido y nos brinda grandes escenas y closeups, interpretando el envejecido y áspero George Briggs. Este es un cuento fronterizo con algo del estilo clásico de Stagecoach y 3:10 to Yuma, pero con la sombría sensación de Meek's Cutoff y The Three Burials Of Melquiades Estrada.

Aunque interpreta a un personaje cascarrabias -personaje recurrente en su filmografía-, Jones crea en su nueva película a un antihéroe memorable, pero es más generoso con Swank, en quien reconoce su capacidad para personificar a una mujer capaz de cruzar la frontera. Ella es la voluntaria decidida a escoltar al este a tres mujeres enloquecidas. Entre estos dos extremos hay una gran gama tan vasta como los horizontes de este extenso viaje a campo traviesa. Jones maneja con equilibrio a las estrellas de su elenco. Maneja con sensibilidad el tema en una película que se presenta como una grata sorpresa.

Una melancólica mirada al crudo destino de las mujeres en el viejo oeste. La adaptación de Tommy Lee Jones de la novela de 1988 de Glendon Swarthout es a la vez lírica e hiriente, extrañamente divertida y delicada. Con un reparto que ofrece buenas y sabias actuaciones, liderado por Hilary Swank como la mujer pionera y soltera autosuficiente encargada de transportar a tres mujeres dementes en el este, junto a Jones como el vago obligado a ayudarla. Esta historia bellamente diseñada, intriga, como aquellas historias jamás contadas que cierra el interés dramático con un serie de giros inesperados.
-Todd McCarthy, The Hollywood Reporter

The Homesman es un gran asunto de sí (Prieto, ambición feminista, y Swankfulness (llena de Hilary Swank)) y de no (tramos pesados, injugable locura, y un final desconcertante).

La Nebraska del siglo XIX es un lugar sombrío en The Homesman, del director, actor y coguionista Tommy Lee Jones, un inefectivo western de ese periodo. Especialmente para Mary Bee Cuddy (Hilary Swank), una solterona con mala suerte en el amor, pero con un espíritu desbordante. Ella es una mujer independiente, pero las otras tres féminas de la trama no son tan afortunadas. Y uno siente como si hubiese visto tantas veces la misma historia, a pesar de que se nota que todos han puesto su mayor esfuerzo. Jones, dirigiendo su segundo largometraje después de Los tres entierros de Melquiades Estrada, sin duda tiene buen un ojo para captar los extensos paisajes occidentales (la fotografía de Rodrigo Prieto brinda la sensación de las fotografías antiguas y quemadas). Sin embargo, el guión -que Jones, Kieran Fitzgerald y Wesley Oliver adaptaron de la novela de Glendon Swarthout – cambia, con inquietud de la tragedia a la comedia. Tampoco ayuda que en toda la trama, Swank parece nunca encontrar su camino con este poco atractivo personaje, o que Jones evita ahondar en corrientes feministas de la historia.
El elenco de Homesman: Sonja Richter, Tomme Lee Jones, Hilary Swank y Miranda Otto
Tommy Lee Jones
Competencia Oficial: Le meraviglie (The Wonders, Alice Rorhwacher, Italia - Suiza - Alemania)
La joven directora italiana Alice Rorhwacher se estrenó en la competición de Cannes con Le meraviglie (The Wonders), una cinta que representa al sector femenino cuya participación ha quedado (no sin una comprensible polémica inaugurada por Jane Campion, la presidenta del jurado) marcada por su ausencia. La película, escrita por la propia realizadora, y protagonizada por Mónica Bellucci, ha tenido una recepción dividida por parte de la crítica. En líneas generales, se subraya su fuerte estética, de claras influencias impresionistas. En el lado negativo, se remarca su carácter convencional que supone un paso atrás en la filmografía de Rorhwacher que dejó muy buenas sensaciones en 2011 con Corpo Celeste —que se presentó en la Quincena de los Realizadores en ese mismo año—.
Rorhwacher, habló de su película ante la prensa:
Es una película bastante personal, que presenta un entorno con el que estoy familiarizada. Describe una familia como la que todos conocemos. No se trata de una historia autobiográfica, aunque mi padre también es apicultor. Las abejas forman parte de la película porque me apetecía trabajar en casa. Es una fábula un tanto cruda y realista. Puede decirse que es la historia de un rey y su reina. Buscamos acercarnos a la realidad para que el espectador tuviera su espacio y disfrutara de una realidad que cada vez es más escasa en esta época. Creo que tengo una gran variedad de influencias cinematográficas y no cinematográficas, porque también me inspiran la literatura y otras formas de expresión…¡como la vida misma!.
Aquí las primeras impresiones:
Alice Rohrwacher, la directora de Corpo Celeste vuelve a Cannes con una historia sobre una familia dedicada a la apicultura, un desarrollo dulce y peculiar, pero que no causará mayores zumbidos. Es una luminosa y divertida pieza que se sitúa en el norte de la campiña italiana: hay encanto, en su mayoría sentimental y poco exigente, pero sin el poder emocional real que muchos estaban esperando de Rohrbacher. Quizá, el problema es que la trama depende del cliché de ganar un concurso de televisión.

El segundo largometraje de Alice Rorhwacher tiene recompensas a largo plazo, pero no es lo suficientemente sólida como para justificar su lugar en la competencia de Cannes. El humor de The Wonders es similar al de su película debut en Cannes, Corpo Celeste: secuencias impresionistas que captan el espíritu de una muchacha adolescente y un sentimiento de gente que no se encuentra en sintonía con el mundo. La historia está inspirada en su niñez. Un modesto lanzamiento en Europa y un paso por pequeños festivales hubiesen sido los escenarios idóneos para está película.

The Wonders es el retrato lírico y cálido de una familia peculiar que vive un momento precario en la Italia rural. Es la segunda película de Alice Rohrwacher (Corpo Celeste), una historia personal e íntima basada en su propia infancia, que celebra la maravillosa excentricidad de las familias - la misma medida para brindar amor y la misma para la destructivo, la felicidad y la desesperación, todo al mismo tiempo. Rohrwacher filma con equilibrio, con un estilo documental y cine granulado filmado en16mm granulada, que se concentra en la luz natural. Hay también una intimidad cotidiana relajada. El elenco se destaca por brinda actuaciones aparentemente sin esfuerzo. Rohrwacher nos adentra en este mundo extraño con la facilidad de alguien que sabe exactamente lo que está hablando.

El segundo largometraje de Alice Rohrwacher sigue de cerca a una familia de apicultores que lucha por preservar la agricultura tradicional. Le Meraviglie (The Wonders) es una melancólica canción, pero no lacrimógena, un canto del cisne que narra la desaparición del estilo de vida rural y tradicional en Italia. Es también la historia de una chica campirana sin experiencia que quiere extender los horizontes limitados de su familia como apicultores de miel. La directora de fotografía, la francesa Helene Louvart, audazmente opta por una visión realista que no oculta la fealdad de la vida campesina en toda su pobreza, el cielo nublado y el barro. Es la única película italiana que compite en Cannes, una bastante atípica, aunque la audiencia quizá la juzgue como una historia endeble con emociones escasas.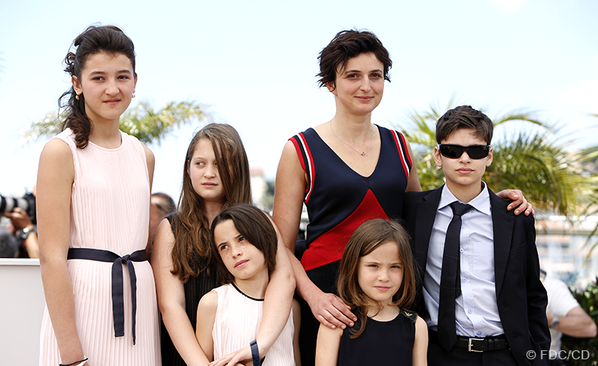 El elenco de The Wonders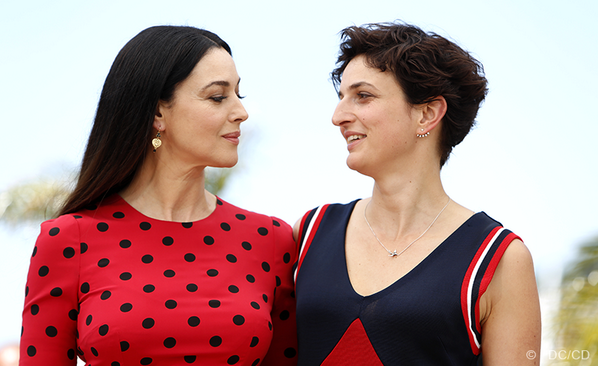 Monica Bellucci y Alice Rorhwacher
Un certain regard: Jauja (Lisandro Alonso, Argentina -México - Estados Unidos - Holanda)

El argentino Lisando Alonso es un de los directores consentidos del festival. Todas sus películas se han estrenado en Cannes, aunque ninguna en Competencia Oficial. Hoy por la tarde se proyectó en la sección Un Certain Regard su primer filme de época, primer filme narrativo y primer filme con un protagonista actor (Viggo Mortensen), Jauja, sobre un hombre que va a buscar a su hija a las lejanas estepas de la Patagonia. El director, en conferencia de prensa, dijo sobre su génesis:
Hace algunos años, recibí un correo electrónico para contarme que una amiga había sido asesinada lejos del lugar donde había nacido. Esta historia fue el punto de partida de toda la película. Siguiendo los consejos de mi amiga, concedo un poco más de lugar a las palabras y a mi propio deseo.
Sobre trabajar con Alonso, Viggo Mortensen dijo: "insiste amablemente pero con firmeza sobre la verdad intrínseca, esencial, de todo momento concreto".
Hasta el momento, Jauja ha recibido pocas críticas, casi todas positivas:
Jauja de Lisandro ahora es hasta ahora mi película de Cannes. Sublime. Fascinante. Inigualable.

-Adam Woodward, editor de Little White Lies.

Jauja imita modalidad de Olivera/Reis, internaliza el misticismo. Austera pero cálida, metódica pero vigorizante. Impactante.

-Jordan Cronk, crítico de Sight & Sound, Screendaily

El western minimalista situado en un paisaje lunar a la Pasolini en Argentina, Jauja, de Lisandro Alonso, es un bello concepto.

-Nick James, editor de Sight & Sound.

El filme más extraño aquí hasta el momento: Jauja de Lisandro Alonso. Muchas caminatas por el desierto (muy Alonso). Pero luego... No es el vehículo promedio de Viggo.

-Johnathan Romney, crítico de The Guardian.



Lisandro Alonso y Viggo Mortensen
Esteban Bigliardi, Viilbjork Malling Agger, Ghita Norby, el director Lisandro Alonso, el actor Viggo Mortensen y el escritor Fabián Casas
EF (@EnFilme)
Trailers de la Sección Oficial · Historia de México en Cannes · Presencia latinoamericana en Cannes
Días: 1 · 2 · 3 · 4 · 5 · 6 · 7 · 8 · 9 · 10 ·
Ganadores: Premios FiPRESCI y SIGNIS · Semana de la Crítica · Un Certain Regard · Sección Oficial